Description
WAITING FOR WHAT HAS ALREADY COME: Advent Retreat
A week-long silent retreat exploring the inner meaning of Advent – preparing for the embodiment of the Word of God in us and the world. The daily talks by Fr Laurence help to bring the meaning of the season alive and to rediscover traditional ideas at the level of personal experience. In addition to meditation morning, midday and evening, and a contemplative Eucharist, there will be times for yoga, personal meetings, solitary times to enjoy the beauty of Bonnevaux and a time for sharing with your fellow 'inner pilgrims' on the last day.
Led by Laurence Freeman (GB with FR translation), yoga taught by Giovanni Felicioni
Contribution for entire retreat: €480 for double room / €660 for single room.
Registration for retreat is at 16:30 on the Monday
Closure is 14:30 after lunch on Sunday
Laurence Freeman
Laurence Freeman, OSB, is director of the World Community and of Bonnevaux, where he now lives.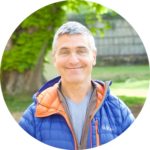 Giovanni Felicioni
Giovanni is part of the WCCM since the beginning, being involved in its official foundation in 1991. He is an Oblate, a certified Advanced Rolfer™, a Rolf Movement™ practitioner and a Yoga Teacher.