Description
SILENCE, STILLNESS, SIMPLICITY: learning to meditate (beginner's retreat)
A simple introduction to the place of meditation in the Christian tradition,  to the practice and to  its meaning for faith. The weekend consists of teaching and practice times as well as opportunities for discussion and for personal meetings. This can also be useful for those who have recently started to meditate and are looking for renewal of their practice.
Liz Watson – (GB with FR translation)
Contribution for entire retreat: €160 for double room / €220 for single room.
Registration for retreat is at 16:30 on Friday
Closure is at 14:30 after lunch on Sunday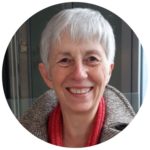 Liz Watson
As a long standing member of the World Community for Christian Meditation, Liz has served in various capacities including UK National Coordinator. She now focuses on teaching meditation, leading retreats, and offering spiritual direction.