Description
A retreat is an inner pilgrimage. In all traditions walking to a sacred place is a symbol of this – though in modern times we have largely lost the sense of physical pilgrimage and replaced it with tourism. Bonnevaux is right on the ancient Paris/Tours portion of one the most ancient Christian pilgrim walks – the Camino to Santiago de Compostela. So, after the retreat we will spend 3 to 4 days walking this Way. We plan to walk about 20km each day, some of it walking in silence and some getting to know each other as we walk the talk together.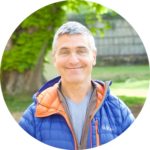 Giovanni Felicioni
Giovanni is part of the WCCM since the beginning, being involved in its official foundation in 1991. He is an Oblate, a certified Advanced Rolfer™, a Rolf Movement™ practitioner and a Yoga Teacher.
Rebecca Brewin
Rebecca Brewin is a yoga-movement teacher and poet. She combines the resources of movement, poetic imagery and writing to create a space to support, open and reform our own personal and collective stories.