The Guesthouse (The Stables)
The former stables were converted into a Guesthouse with capacity for 34 guests. The building also includes a spacious dining room, reception and lounge areas, the administrative offices, meeting rooms and a bookshop where you can find WCCM books and other publications and purchase souvenirs.
The Guesthouse officially opened for its inaugural retreat during Holy Week 2022.
A refreshing cup of tea or coffee greets the guests at the reception area upon arrival – this bright, open space is flooded with light and combines modern design while respecting the traditional materials of the original building providing a beautiful space for quiet conversations and breaks. The architectural gem of the Guesthouse, stunning ancient timbers of the structure are exposed to view above the elevated glass and steel walkway connecting the two sides of the building.
Guesthouse accommodation is designed to emphasize simplicity and warmth, offering 19 rooms – 4 single rooms and 15 twin rooms. Apart from 1 single room and 1 twin room, all rooms contain private ensuite facilities. The total capacity of the Guesthouse is 34 guests.
Meals are an important communal and social element of the life at Bonnevaux – both in the daily routine and during retreats and other events. Sometimes taken in silence and sometimes more convivially. The dining room accommodates up to 54 guests.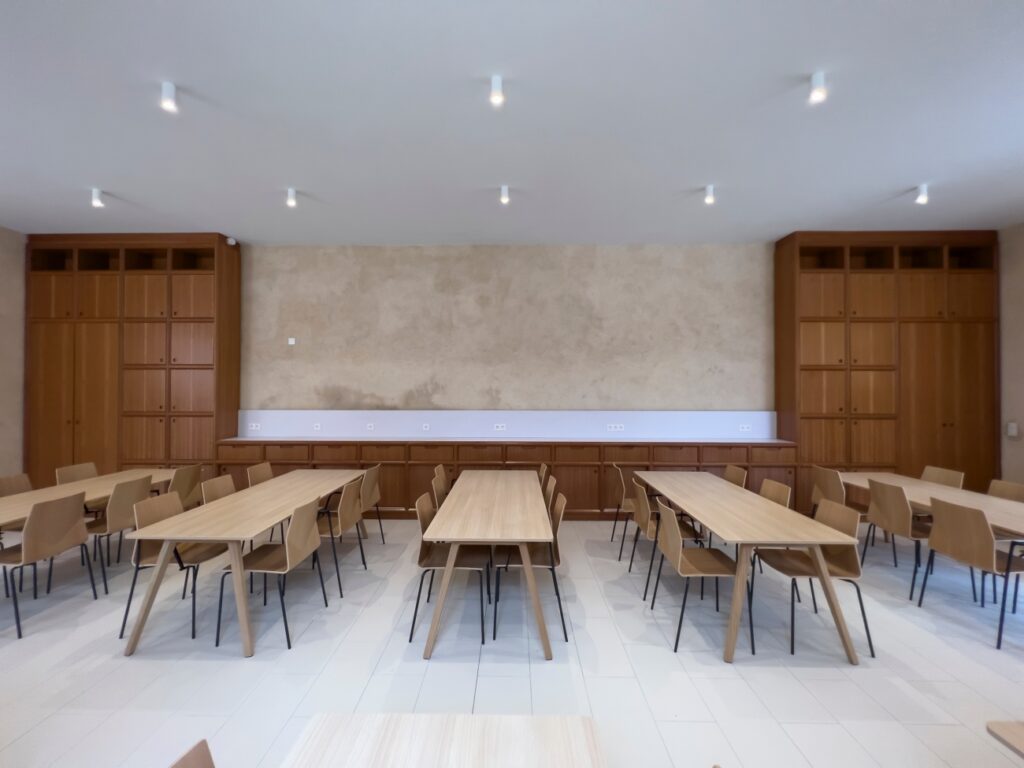 The Bonnevaux bookshop contains a wide variety of books written by John Main and Laurence Freeman and many other teachers. These publications appear in English, French and other languages. WCCM Newsletters and other publications, souvenirs and small gifts are also available. Within the bookshop area there is also a multi-purpose meeting room.
Gallery - Guesthouse renovation process